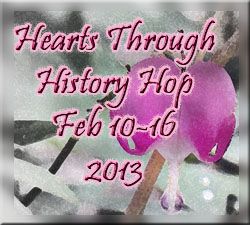 Thanks to those of you who entered the below contest! I hope it was a fun blog hop for you all! The winner of my blog hop giveaway is Sherry G Loag--yay Sherry! I will be emailing you with details. Thanks again!
It has been many years since I have read Sharon Kay Penman's enthralling novels about the Princes of Wales, three very long novels, (Here Be Dragons is 704 pages for starters) full of historical pageantry and intrigue. Of all of those many words, the ones I remember most are those having to do with the love Llywelyn ap Iorwerth, (1172 – 1240), one of the great Welsh princes, had for his consort, Joan, the illegitimate daughter of King John (of Robin Hood fame). It was a love that endured a very public extramarital affair. Joan died at age 43 (some surmise breast cancer to be the cause) and her husband's grief was so great that he founded a Franciscan friary in her honor right across from their royal home on the seashore at Llanfaes. It was destroyed in 1537 by Henry VIII during the dissolution of the monasteries and her sarcohagus was used, for a time, as a horsewatering trough. Her stone coffin can now be seen in Beaumaris parish church, Anglesey, England. The slate panel above the empty coffin reads: "This plain sarcophagus, (once dignified as having contained the remains of Joan, daughter of King John, and consort of Llewelyn ap Iowerth, Prince of North Wales, who died in the year 1237), having been conveyed from the Friary of Llanfaes, and alas, used for many years as a horsewatering trough, was rescued from such an indignity and placed here for preservation as well as to excite serious meditation on the transitory nature of all sublunary distinctions. By Thomas James Warren Bulkeley, Viscount Bulkeley, Oct 1808"
In honor of Valentine's Day and all things "amour" I am giving away a set of my Miss Delacourt books (
Miss Delacourt Speaks Her Mind
and
Miss Delacourt Has Her Day
, Jane Austen-era romantic comedies), available either as hard cover books or ebooks--your choice. All you need do is comment here to enter. If you would like additional entries, you can "like" the FB page of one or the other or both (links here:
MD1
,
MD2
) or post a link to this blog post on your own blog or on Facebook. (Please let me know so that I can count all of your entries and be sure to give me a way to contact you should you win. Thanks!)
For more fun historical posts about love/romance/weddings/and all things mushy, be sure to check out the blogs below: (the blog hop officially begins midnight February 10th and goes through the 16th.) All of these blogs will have a giveaway you can enter, as well! Here's to Valentine's Day and all things

l'amour

!

This entry was posted on Saturday, February 9, 2013 at Saturday, February 09, 2013 . You can follow any responses to this entry through the
comments feed
.